Illustration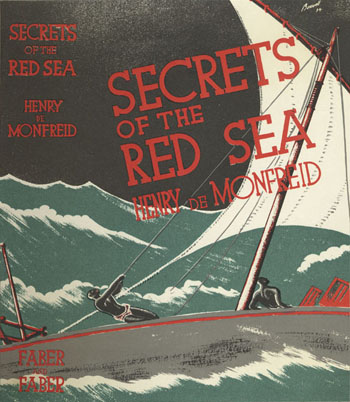 There is a difference between drawing and illustration. Drawings are created for personal reasons. Illustrations fulfil a brief. Some artists are able to fuse the two and James Boswell was one of them. From 1927 when Boswell received his first commission – a book jacket for Solemn Boy by Hector Bolitho – he produced thousands of illustrations for magazines, pamphlets, posters, newspapers, record sleeves and above all, books. He was the ultimate professional. Every illustration, the simplest for the Sunday Telegraph letters page; the tiny, dumpy London taxi on the title page of a book, so comfortable and so London; Edinburgh re-drawn from a sketch book for the glossiest of covers for Director Magazine ; the despairing mother with pram by a building site destined to be something she can't afford for the Labour Party; lovers in a deep meadow for a record sleeve for Songs of Seduction. He understood what was needed and he supplied it.
The work he and his friends, James Holland and James Fitton produced for Left Review was exceptional in the thirties. In 1971, Paul Hogarth said of him, 'Boswell's biggest achievement was to revive the spirit of social satire in English illustration. He set the example himself with hundreds of intensely observed, witty and sometimes savage drawings that always delighted because they were so finely and exquisitely drawn'.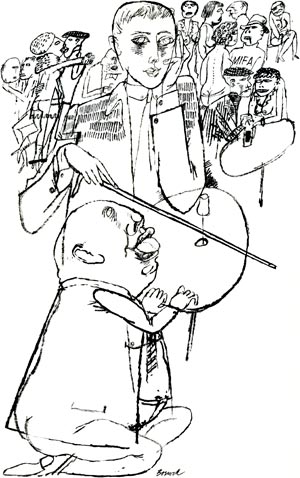 Looking through old copies of Lilliput, one single edition may include a delicate border for a poem about love, a scatty cartoon for a scatty poem and a tough illustration for a story by Gorki, all recognisably Boswell, all brilliant, all different. When he began to edit the house journal for Sainsburys, he filled it with illustrations, occasionally quick and free but at other times, detailed and strong and often drawings rather than illustrations. His record sleeves for Topic Records were the same, sometimes cheerful jokes and at other times, drawings so exquisite that I have two of them framed and hanging on my wall.
The illustrations for his final book, Conversations With Gerald by John Symonds (right) were wonderful. They harked back to earlier days but with the addition of a lifetime of experience, understanding and knowing exactly what would be right.
He was a master illustrator.
Sal Shuel